IFC Solar Update
The Club is looking to invest in more solar panels to help secure our future.
We are looking for donations to help us raise the money needed for a deposit. Please read through the below documents if you are interested in helping.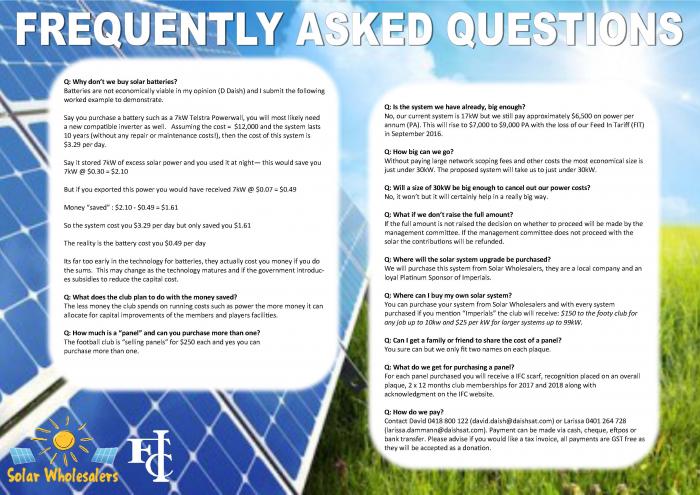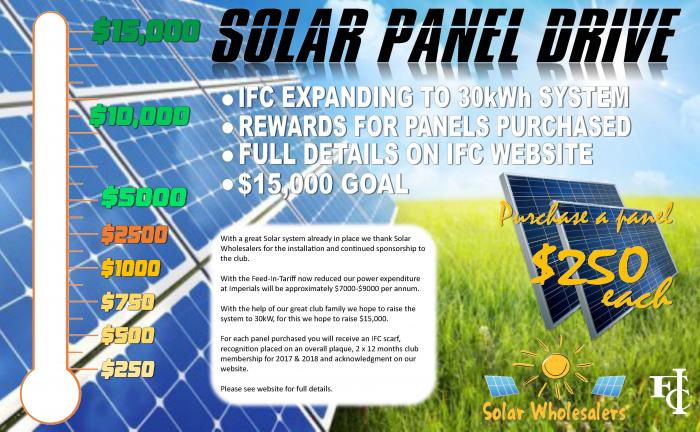 MAJOR SPONSORS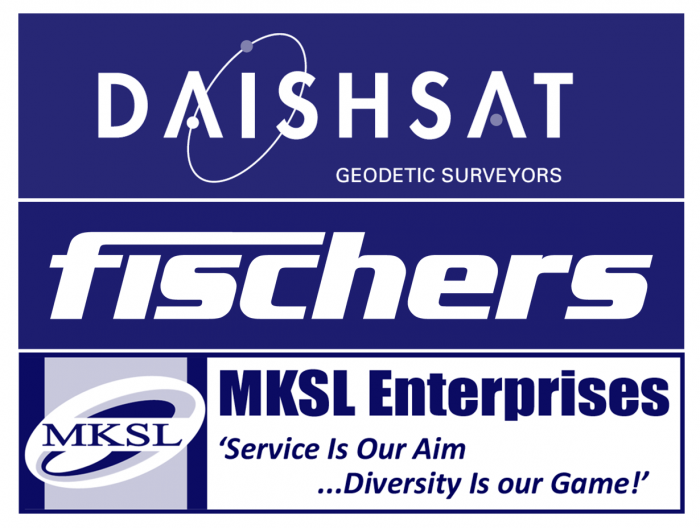 NAB Introducer program means cash for our club!
Blue followers, our club has recieved in excess of $3,000.00 due to being referred as NAB loan customers preferred club! If you are thinking loans, call into the NAB and mention Imperials! And thanks to those people who have done so.



Premier Partner Solar Wholesalers
Solar Wholesalers are a quality organisation with a quality product. Please support them when in the market for solar proudcts. The club is rewarded in the following fashion;
$150 to the footy club for any job up to 10kw and $25 per kW for larger systems up to 99kW

For example..
A 5kW system would be $150 sponsorship to the club
A 10kW system would be $150 sponsorship to the club
A 15kW system would be $375 sponsorship to the club
A 30kW system would be $750 sponsorship to the club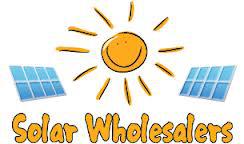 HOME LOANS
Important notice to all Imps members and supporters. You can now help your footy club by getting your new home loan with Westpac through their home loan manager , Kaye Rance.
Simply call Kaye on 0457 506 283 , say that you are an Imps supporter and let her do the rest. Imps will be paid a commission for each home loan set up under this arrangement.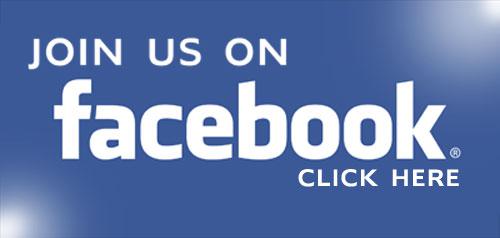 Keep updated with scores on matchdays by joining our facebook page. Search out "Imperial Football Netball Club RMFL" and request to join.



1957, 67 and 77 Reunion/Life member's and Sponsors Day
Imperial Football Club followers,
Below is a letter which will be sent around to as many past players, officials and followers of the club relating to our upcoming Life Members, Sponsors and Reunion Day planned for August 12th. Please share with who ever you see fit as we would like it to be as well attended as we can.
Dear Life Member/Sponsor or Past Imperial Football Club premiership player,
Re: IFC reunion
On Saturday 12th August, we would like to invite you and your partner to a special event we are holding at the football clubrooms on Adelaide Road, Murray Bridge.
The Occasion allows the club to recognise and acknowledge the ongoing support of our sponsors. We also invite our precious life members along to enjoy some time to reminisce and celebrate past fond memories. The opportunity also is extended to our premiership players of 60 years ago in A, B Grade and colts, the year 1957. Included in the celebration will be guests from 50 years ago, 1967 where Imperials won both A and B grade premierships. In 1977, Imperials won the League and Under 15 flags, so we are keen to have those guys along from 40 years ago as well!
As you can see, we are expecting a grand roll up and would be grateful to have a strong attendance to enjoy our club, reinforce our support of the Blues and generally have a great day. We do play our oldest rivals in Ramblers and expect to be in the winner's circle after our stirring win last round.
The format will be very casual, complimentary drinks will be provided from 12.30 in the clubrooms along with a finger food luncheon. Some informal speeches will take place acknowledging our guests and the day will be set aside to enjoy the football match. At the conclusion of the match, the bar will be open as usual, post-match presentations and teas will be available.
We sincerely hope you can come along and make the day a great one where you can catch up with many old friends and team mates, who knows you might even meet an old Rambler opponent!
Feel free to contact; Hugh Barker or Shane Snell to RSVP for catering purposes.
Hugh Barker: 0408 813 535 email: barker@impfc.com.au
Shane Snell on 0427 003 177 email: snelsf10@bigpond.com
Yours Sincerely
Shane Snell & Hugh Barker




Re-union Team Photos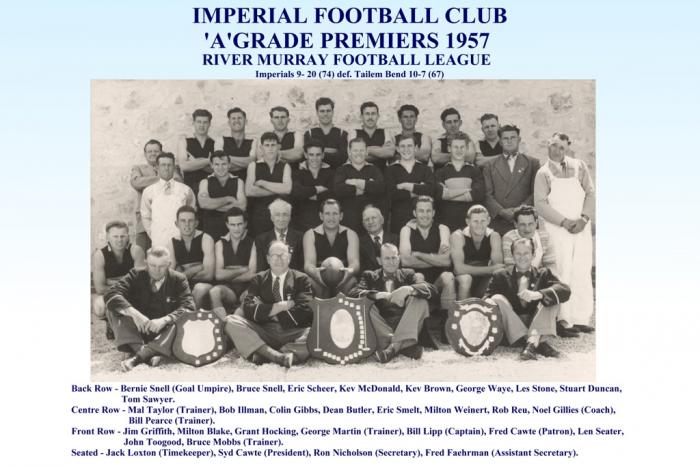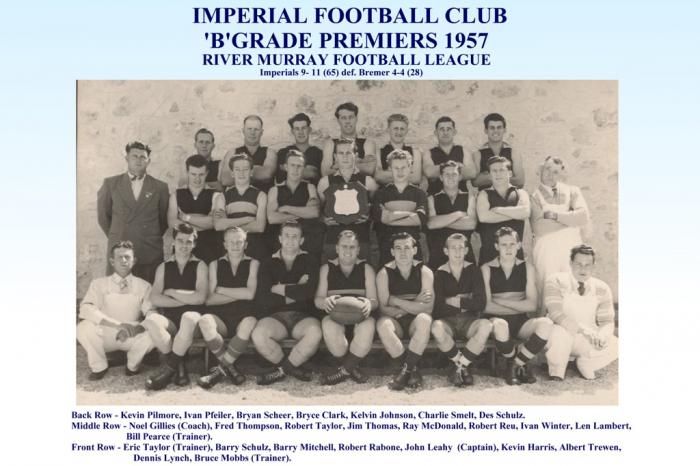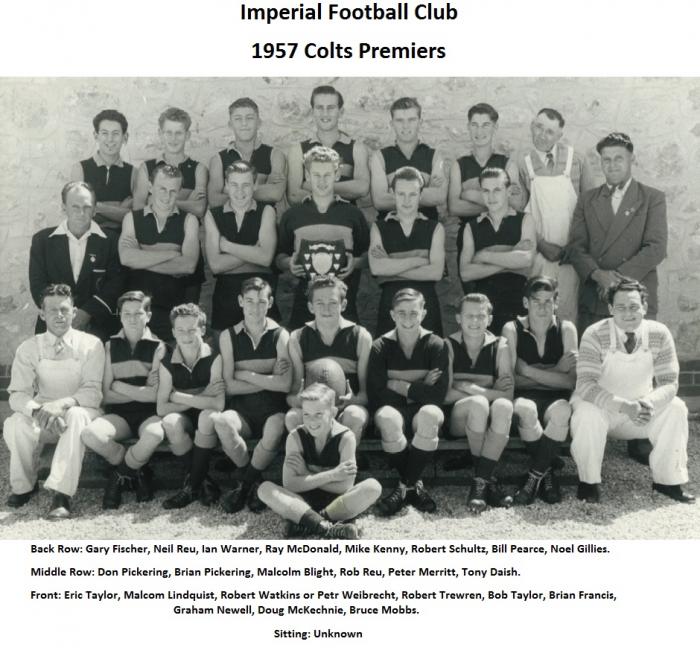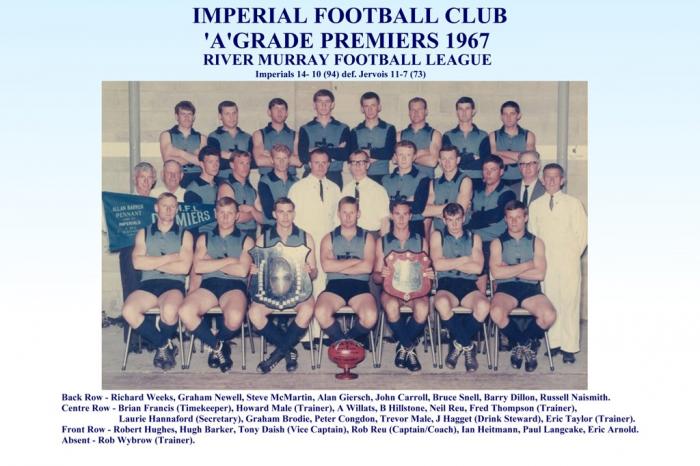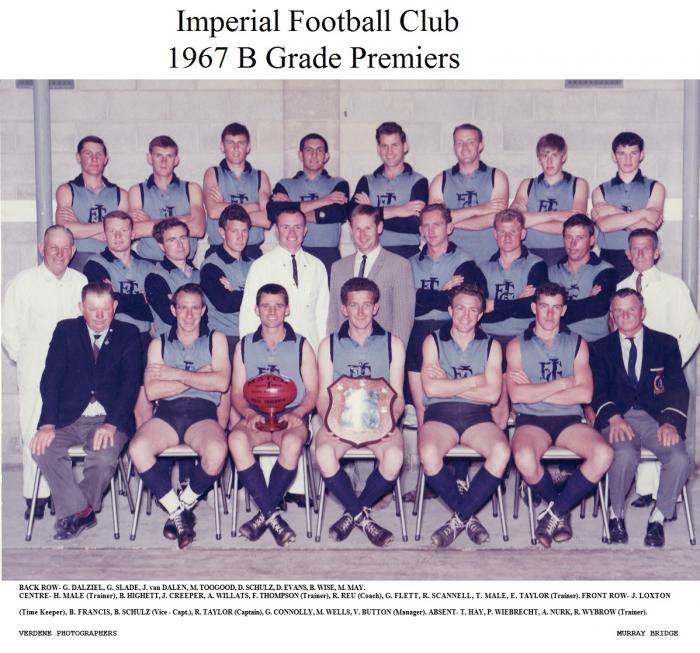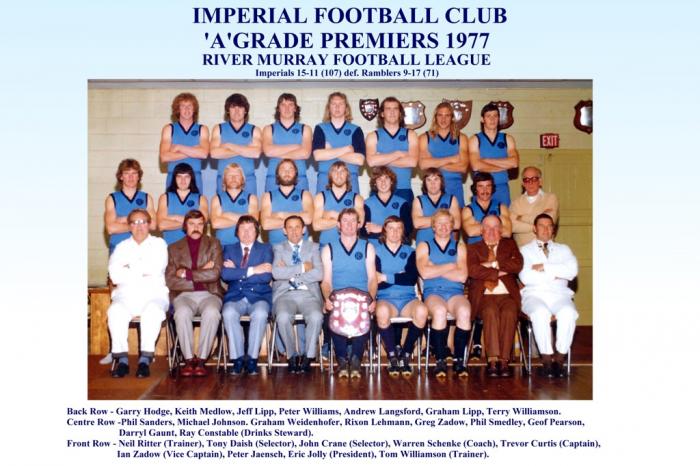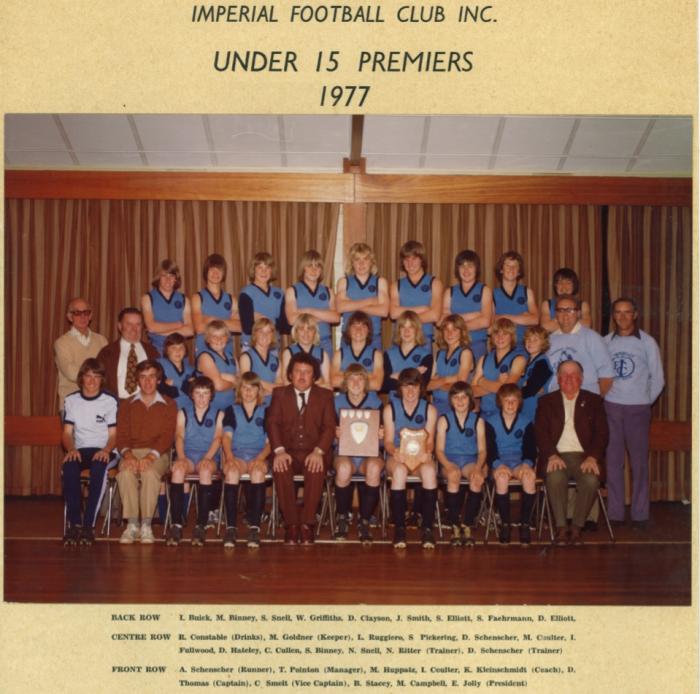 2017 Junior Coaching Update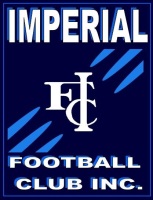 Imperial Football Club are proud to announce the 2017 Junior Coaching Staff. Full list with photos available here.
Under 17.5 Coach - Jacob Rance
Under 15 Coach - David Schenscher
Under 13 Coach - Jack Daniels
Under 11 Coach - Greg Bell
Under 9 Coach - Damien Garrett



Imperial FC AFL Star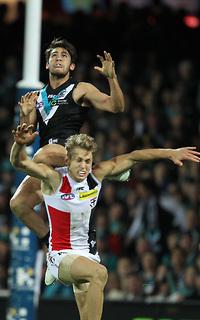 Home grown talent Chad Wingard won the 2014 AFL Mark of the Year with this screamer against St Kilda.


<![endif]-->